Networking Opportunities
WELLCOM's networking groups is a member benefit for the 2017 calendar year! We are excited to bring WELLCOM members together in this way, simply to connect over a cup of coffee or cocktail, without a formal agenda of any sort. WELLCOM members are doing so many great things with their workplace wellness initiatives, and we know it can be extremely beneficial for members to talk with one another, discuss common struggles, and learn from each other's successes. The WELLCOM networking groups will provide a fun opportunity to do exactly that!
---
Coffee, Cocktails & Conversations
The Coffee Clubs that were being held in Omaha have now been combined with the Quarterly Symposiums. We had great feedback from the attendees last summer when we combined Q2 2016 and Coffee Club. We have renamed the event "Coffee, Cocktails and Conversation". You can join us to network following the luncheon or workshop session at the Symposiums.
2017 Dates:
Friday, March 24, 2017
Thursday, June 8, 2017
Tuesday, September 19, 2017
Thursday, November 7th, 2017
---
Iowa Coffee Clubs and Networking Group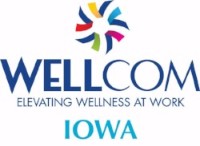 Coffee Club- Des Moines, Iowa
Connects member companies to discuss wellness hot topics in a small, friendly setting!
2017 Dates:
Tuesday, February 7, 2017
Tuesday, April 4, 2017
Tuesday, June 6, 2017
Tuesday, August 1, 2017
Tuesday, October 3, 2017
Tuesday, December 5, 2017
Employer Wellness Forum Working On Wellness
2017 Dates:
Friday, March 10, 2017
Friday, May 12, 2017
Thursday, July 27, 2017
Thursday, October 26, 2017