Grant Initiatives
In 2010, WELLCOM began working with Douglas County Health Department, Live Well Omaha and other community partners to form Douglas County Putting Prevention to Work (DCPPW). This was a grant funded initiative to improve Omaha's health through coordinated efforts to create an environment that supports healthy behaviors and options at home, at work and at places along the way. Partners for a Healthy City was one of the many exciting success stories that came out of DCPPW. Partners for a Healthy City worked with organizations to implement environmental changes to increase access to physical activity, healthy foods and beverages, and/or breastfeeding support.
WELLCOM partnered with the Nebraska Department of Health and Human Services and Douglas County Health Department to assist organizations with implementing strategies specific to walking at the worksite, healthy vending, and breast feeding support. WELLCOM provides technical assistance, promotional resources, and ongoing support specific to the organization's culture and needs. In turn, eligible WELLCOM members have access to valuable toolkits, such as the Walk It Guide, Healthy Vending Toolkit, Active Commuting Tool, and mini-grant opportunities to help fund new initiatives.
Be Healthy Douglas County highlights the great work that is occurring through the Douglas County-led initiatives that WELLCOM and other local community partners assist with to help make a difference in the lives of many of our Omaha neighbors who need it most - from making healthy life choices more accessible, to providing active living suggestions, to helping minimize the impact of chronic disease. The overall goal of the initiatives is to create an environment that supports a culture of health and sustains active, healthy lifestyles across Douglas County.
If you would like more information about WELLCOM's grant resources please contact our Grant Manager, Justin Holes, at jholes@elevatingwellness.org.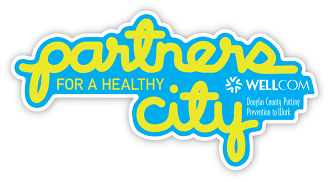 Chronic Disease Prevention and Control Program -- Nebraska Department of Health and Human Services.