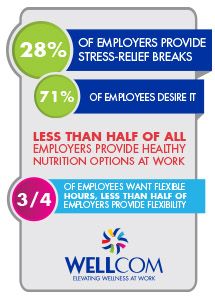 You've done your homework. You have invested time, money and creativity into your worksite
wellness program, yet despite your efforts, participation still falls short of 100 percent.
You are not alone. Worksite wellness participation varies greatly and is influenced by a number of factors including: location, number of employees, the types of incentives offered and the topics covered.
HealthMine, a consumer health engagement provider, set out to uncover why employees with access to a program still choose not to participate.
According to their results, the overwhelming response was: The plan isn't designed for me. Relevancy, or the lack of, far outweighed other factors such as convenience, forgetfulness and security concerns
In a world where employees can personalize every aspect of their life with the click of a mouse or the swipe of their finger on their mobile device, it is not surprising that they expect a wellness plan that caters to their specific needs.
Employers often fall into the trap of developing a wellness program based on common health risks or wellness issues. Yet, if you repeatedly focus on weight or tobacco use as examples, you may be missing out on health issues that are more relevant to your population.
Quantum Workplace and Limeade surveyed 2,000 employees to uncover what employees are looking for in a wellness program versus what often is covered.
Some common themes:
Stress management: Only 28 percent of employers provide stress-relief breaks, such as meditation, massages, or required breaks, yet more than 71 percent of employees desire it.
Nutrition: Most employees want healthy choices in the cafeteria or vending machines, yet less than half of employers provide such options.
Financial wellness: Employees under age 25 want financial planning services. This benefit is not as relevant to employees over the age of 56. Knowing your audience and key demographics will help determine whether this approach is relevant to your target participants.
Work-life balance: Three-fourths of employees want flexible work hours, but fewer than half of employers provide flexibility. Research shows that employees with access to flexible schedules often are more engaged.
Strategic Relevancy
When developing your wellness strategy, start with the data. Take time to understand your target audience from a broader demographic angle as well as their personal preferences.
Demographic factors, like age, will help you determine risk factors and topics of interest such as financial wellness or family support. Needs and interest surveys are a great way to evaluate behaviors and personal interests of participants. Understanding how employees spend their time after work will help you develop programming with higher relevancy. If you see a large population of participants interested in the outdoors, consider an organized athletic team. Or, if personal hobbies are cited, consider organizing book clubs or hosting cooking or craft classes.
A strong balance between the needs of the business, and the needs and interests of the employees, is key to building relevancy and program strength.