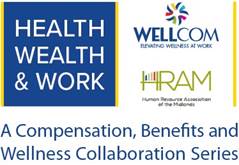 WELLCOM and HRAM (Human Resources Association of the Midlands) have partnered to provide business professionals a series of trending topics on Compensation, Benefits and Wellness presented by experts in the field. HR credits will be available.
Featured Speaker: Alex Jung, "Beyond the Tipping Point: How Recent Events Have Already Change Healthcare"
- Understand how recent and proposed legislation will impact healthcare investment, costs and employer power
- Understand what progressive employers are doing to circumvent the existing system and why
- Understand why mergers and acquisitions matter and what impact they are likely to have on employers
- Understand what you need to be doing now and what risks you've already assumed while these changes occurred
Breakfast: Light continental breakfast will be served.
Registration Cost:
WELLCOM/HRAM Member - $40
Non- WELLCOM/HRAM Member - $65
ALEX JUNG is a partner in Parthenon EY. Prior to joining EY, she was the Senior Vice President leading Walgreens Corporate Strategy based in Deerfield, IL. Mrs. Jung has over 30 years of experience working on strategic growth and risk mitigation engagements. She began her career with Arthur Andersen and after ten years moved into consulting with Mercer as the leader of the National Health Care Analysis Unit, helping to architect one of the first data analytics platforms. She later became the Managing Director for the General Board of the United Methodist Church. Alex returned to consulting to lead the health care practice at Aon Consulting and their significant growth into the number one consulting firm in the space after the acquisition of Hewitt Associates. She is a regular speaker at events such as the California Governor's Women's Conference, World Healthcare Congress, Midwest Business Group on Health, Crain's Annual Health Care Conference, the Benefits Management Expo, the Self Insurance Association of America, John Marshall Law School, and HRMAC where she serves as the Chair for the Total Rewards Interest Group. She sits on the advisory board of the Michael Reese Health Trust and the Healthy Chicago initiative. She is also a member of the Board of Directors for the Respiratory Health Association and Chair of the Health and Wellness Council of the City of Chicago's Chamber of Commerce.