Excellence in Worksite Wellness Awards Luncheon & Quarterly Innovative Symposium - "Organizational Health = Organizational Performance"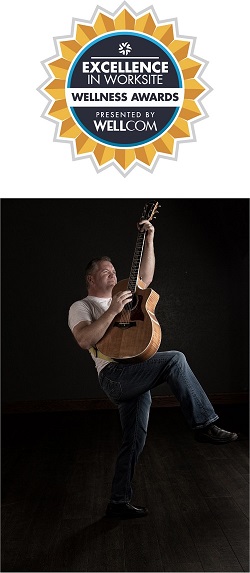 The Excellence in Worksite Wellness Awards Luncheon honors organizations for positioning wellness programs as a strategic business opportunity and making a difference in their employees' lives. Join us on October 30th as we recognize organizations who are receiving the Governor's Wellness Award, the Trek Up the Tower Corporate Team Awards, the American Diabetes Association Health Champion Designation, and American Heart Association Workplace Health Solution Awards.
WELLCOM's Quarterly Innovative Symposium "Organizational Health = Organizational Performance" will be held in conjunction with the Awards Luncheon.
Featuring Luncheon keynote speaker Tim Eggebraaten, "The Off-Duty Chief"!
Tim Eggebraaten has been a police officer since 1992 and had many different roles during his career with the Detroit Lakes, MN Police Department – DARE Instructor, Patrol Sergeant, Investigative Sergeant, K-9 Handler, and Chief of Police from 2011 – 2016. Tim retired from the DLPD in November 2016 after 24 ½ years in law enforcement and 3 years as a correctional officer in Clay County, MN. Tim and his wife, Denise, have three sons and make their home in Detroit Lakes.
Like everybody else, Tim faces the challenges of balancing family life with the rigors of the career and trying to keep himself physically, mentally, and spiritually healthy. The emotional roller coaster of police work started to catch up with Tim during his tenure as Chief of Police and it reached a critical point when one of his best friends and partners took his own life on May 13th, 2012.
Tim began talking about his own career path and leadership journey in 2016 and found that talking with others about personal and emotional topics really helped in his own healing process and learned that others can benefit from knowing that they are not alone in their own journey.
Tim will talk (and sing) about keeping the harmony in our lives and finding that balance so that we can truly be successful in all aspects of our lives. Tim has spent many years performing as a one-man-band and will use the power of music during his presentation to inspire.
REGISTRATION & SPONSORSHIP:
WELLCOM Members
- Awards Luncheon is $65 per person
- Quarterly Innovative Symposium (Sessions 1 & 2) are FREE for members*
WELLCOM Non-members:
- Awards Luncheon is $75 per person
- Quarterly Innovative Symposium & Awards Luncheon is $150 per person
Sponsorship Opportunities (more information can be found in Sponsorship / Exhibit Information link below)
- Exhibitor: $250 Non-Profit / $350 WELLCOM Member / $450 Non-Member
- Table Sponsor: $1,000 (10 seats)*
- Presenting Sponsor: $2,000*
*Individual tickets to Awards Luncheon include a FREE registration to the Quarterly Innovative Symposium. Presenting and Awards Luncheon Table Sponsors receive unlimited FREE registration to the Quarterly Innovative Symposium.
Q4 INNOVATIVE SYMPOSIUM AGENDA
8:00 – 8:30 am
Check in/Exhibits/Networking
8:40 - 8:55 am
Dr. Blake Faulkner, "The Challenge of Optimizing Performance and Well-Being in a Time of Accelerated Change"
We are living in a time of accelerated change that by all accounts is only going to continue to increase in pace. Dr. Faulkner provides a brief overview of the major drivers of change and how they are impacting our personal well-being, as well as our organizations. This brief introductory session will provide context to the topics to be presented and discussed throughout the day that will be focused on how we need to think differently in order to help our employees and organizations flourish in the Digital Age.
8:55 – 9:55 am
Keynote: Dr. Amy Young, "Mindsetting: Nourishing the Mind for Sustainable Wellbeing"
While it is widely accepted that proper nutrition is essential for physical health and performance, we rarely consider whether we are feeding our minds with what it needs for success. As a result, we often allow our minds to run on empty while expecting ourselves to stay committed to our goals. Drawing upon the latest research, Dr. Young discusses the psychological resources needed for sustained effort towards lifestyle change and how the process of mindsetting can set us up for success. Moreover, she explores how mindsetting can be incorporated within wellbeing and health programs to increase employee and client engagement, commitment, and success rate.
9:55 – 10:25 am
Mike O'Brien, "Healthy and Adaptive Organizational Cultures Built for Sustainable High Performance"
The need for a fully engaged and aligned workforce has never been as strong as it is today. To compete in our current environment requires us to be more productive with less time and resources. Already feeling stretched to the limit, placing increased demands on employees is no longer a sustainable option. We have reached an era where gains only come from inventing new ways of working together that are a step-change from the past. Learning how to create exceptional workplaces where individuals and teams thrive is quickly becoming a key differentiator in today's highly competitive and fast paced market place. In this session Mr. O'Brien will provide an introduction to the underpinnings of adaptive and healthy organizational cultures that are traits of high performing companies.
10:30-11:00 am
Panel Discussion, Q & A
Dr. Amy Young, Mike O'Brien, Dr. Blake Faulkner, Dr. Deb Carlson (Nebraska Methodist College), Kathy Nellor (Blue Cross & Blue Shield of Nebraska), Frank Venuto (Nebraska Medicine), Kelly Parr (WELLCOM)
11:00-11:30 am
Exhibits
11:30 – 1:00 pm
Awards Luncheon
1:00 – 1:30/2 pm
Exhibits
1:30 – 2:15
Mike O'Brien and Dr. Amy Young, "Leadership Perceptions: How Leaders Impact the Performance and Well-being of Those They Lead"
In this interactive session Mr. O'Brien and Dr. Young will lead you through a Leadership Perceptions application exercise that will allow you to reflect and discuss how leaders impact the mindset of those they lead. The session will provide take-aways that you can take back to your own organization.
2:20 – 4:00
Kelly Parr, "Behavior Change is Hard! Insights on the Missing Link in Wellness Initiatives"
In this session, Kelly Parr, a 20-year-plus corporate wellness professional and WELLCOM consultant, will lead you through interactive sessions introduce "mindsetting tools" you can integrate into your corporate wellness initiatives. These tools will help individuals more effectively change those beliefs, habits and attitudes that are limiting them and enhancing those that are moving them towards the life and overall personal well-being they want. This session gives you a sample of cutting edge curriculum that will be available for your company enabling you to move the needle for healthy behavior change in your workplace.
If you have a dietary restriction, please contact Chantelle Green at cgreen@elevatingwellness.org for more information.
Photo and Video Release:
By registering and participating in this event, you consent to the recording of your likeness, image, and/or voice and authorize WELLCOM to use photographs, video, and audio recordings containing your likeness, image, and/or voice in any medium for any purpose.