View Event Photos
In 2019 WELLCOM introduced its Wellness Awards Gala, which will present both the historical Light of Wellness Awards as well as our Excellence in Worksite Wellness Awards. The Wellness Awards Gala took place the evening before our all-day Xchange.
Date: Tuesday, October 8, 2019
Location: Scott Conference Center | 6450 Pine St, Omaha, NE 68106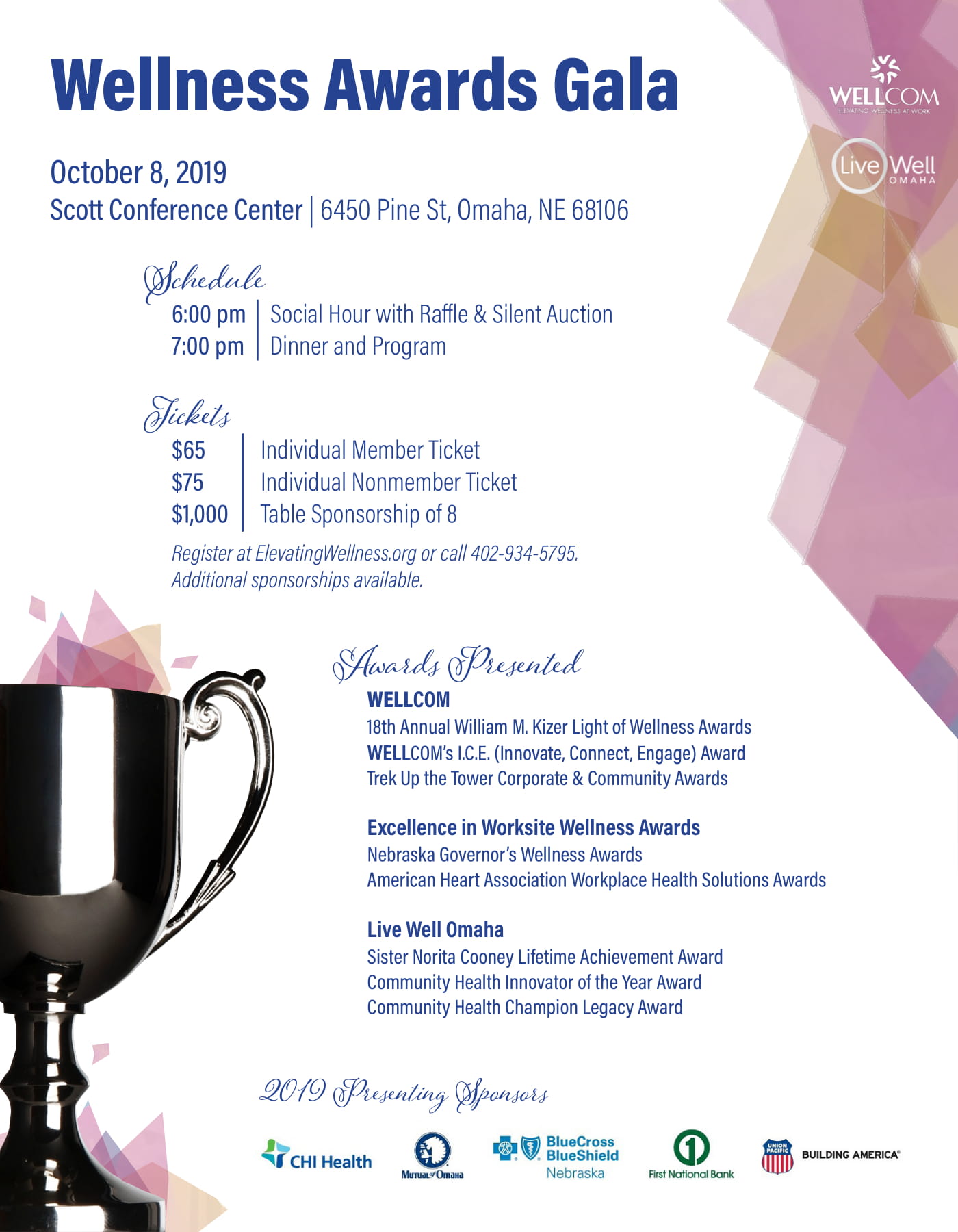 ---
Wellness Awards Gala Sponsors
Raffle Sponsors
AMC Theatres
Amy Krecklow Hair
Big Birge Plumbing
The Blackstone Social - Osteria Segreto
Borsheims Fine Jewelry and Gifts
Brickway
The Corky Canvas
Craft Ax Throwing
Create DIY Craft Studio
Creative Adventure Lab
Creighton University
The Dinner Detective
Durham Museum
Elite Island Resorts
Flagship Commons
Flagship Restaurant Group
Henry Doorly Zoo
Husker Hounds
The Iowa Children's Museum
Iowa State University Athletics
Iowa Wild Hockey
La Mesa
Le Smash
Lincoln Parks Foundation
Maplewood Lanes
The Mark Bowling Alley
Mutual of Omaha
Raising Cane's
Rebecca Vinton & Joe Jeannette
Roast Coffee (Aksarben)
The Rose Theatre
Sugar Clay Winery
Sun Valley Landscaping
University of Nebraska Omaha
Upstream Brewery
Vala's Pumpkin Patch
WELLCOM
---
The WELLCOM I.C.E. Award - Innovate, Connect, Engage
In the spirit of its three guiding principles – Innovate, Connect, and Engage (I.C.E.) – WELLCOM is introducing a new way to recognize corporate cultural innovation and impact with the I.C.E. Award. 
When William Kizer founded the Wellness Council of the Midlands (now WELLCOM) alongside executives from Valmont, Mutual of Omaha, and Union Pacific, it was an innovation that formed the first wellness council in the nation that was to serve as a blueprint for the formation of councils to follow.
It is this forward-thinking innovation and cultural impact that WELLCOM is seeking to award in organizations across the Midwest.
The WELLCOM I.C.E. Award evaluates your company culture based on innovation from any department within your organization – not just the wellness team! Proof and examples of cultural improvement can spotlight any part of the company that is contributing to employee wellness. Let us know about your new, unusual, and groundbreaking innovations impacting your company culture!
---
The William M. Kizer Light of Wellness Awards
The William M. Kizer Light of Wellness Awards honor WELLCOM's founder, William M. Kizer, 1925-2017. Mr. Kizer pioneered the worksite wellness movement. He was Chairman Emeritus of Central States Indemnity and founded the Wellness Council of the Midlands, now WELLCOM, in 1982. Over 35 years later, the mission continues reaching thousands of employees across the Midwest. The Light of Wellness Awards were named in his honor in 2001.
---
Live Well Omaha Community Awards
Sister Norita Cooney Lifetime Achievement Award
This award is created in honor of the late Sister Norita Cooney, RSM, a Sister of Mercy who was influential in the formation of Live Well Omaha and was essential to its early funding and community health priority-setting. Her spirit of philanthropy, business savvy, and compassion to always help others as if they were family has guided Live Well Omaha since its creation.
This award shall be given to a community leader that has dedicated a lifetime to investing in a healthier community in incredibly impactful ways. This person is a standard-bearer for those around them and for the next generation of leaders. This person takes time to mentor and build equitable systems that will open more opportunities for all to live well.
Community Health Innovator of the Year Award
This award is bestowed upon an individual, team, or organization that has developed a unique product, service, messaging campaign, or intervention that provides a valuable community health service in the Omaha-Council Bluffs Metro area.
Community Health Champion Award
This award is bestowed upon a leader who volunteers as a champion of health in schools, neighborhoods, faith communities, or with individuals, etc. This individual has dedicated countless hours to the improvement of health for their focused target audience, and does so from a volunteer role.
---
The Excellence in Worksite Wellness Awards
The Excellence in Worksite Wellness Awards honor organizations for positioning wellness programs as a strategic business opportunity and making a difference in their employees' lives. The Excellence in Worksite Wellness Awards recognize organizations who receive the Governor's Wellness Award, the Trek Up the Tower corporate and community team awards, the American Heart Association Workplace Health Solution Awards, and the Global Centre for Healthy Workplaces awards.
---
Trek Up the Tower Corporate & Community Team Awards
We will honor companies and community groups in the following categories:
top three fastest teams in the Large Corporate Team category
top three fastest teams in the Small Corporate Team category
top three fastest teams in the Community Team category