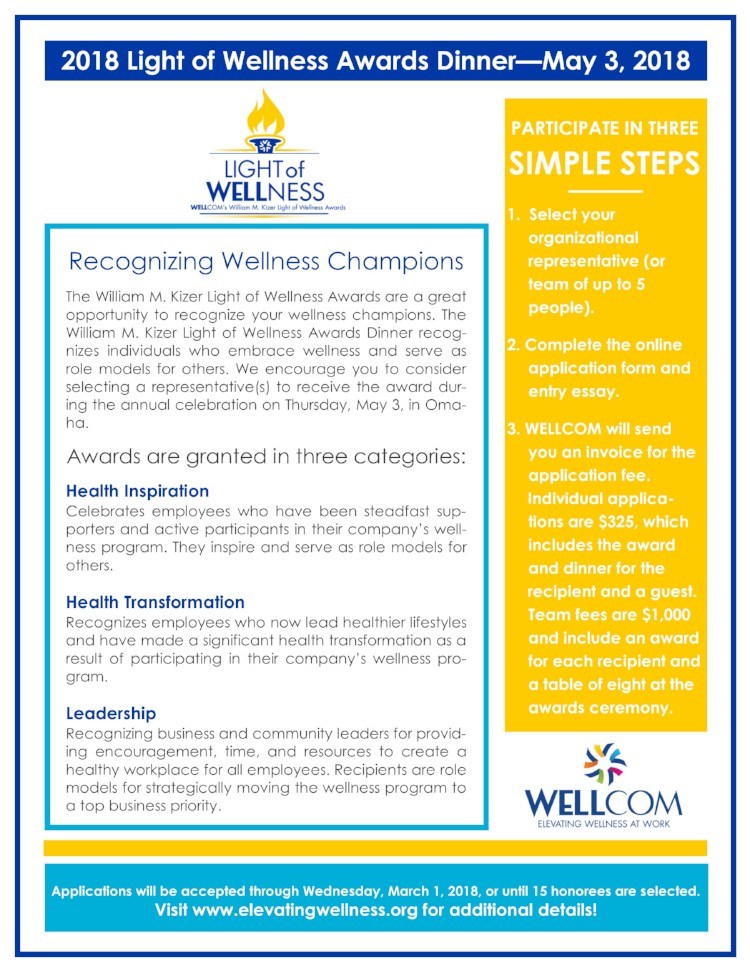 Award Categories
Health Inspiration 
Celebrates employees who have been steadfast supporters and active participants in their company's wellness program. They inspire and serve as role models for others.
Health Transformation
Recognizes employees who now lead healthier lifestyles and have made a significant health transformation as a result of participating in their company's wellness program.
Leadership
Recognizing business and community leaders for providing encouragement, time, and resources to create a healthy workplace for all employees. Recipients are role models for strategically moving the wellness program to a top business priority.  This award is specifically designated for senior level executives.

---
2018 Light of Wellness Honorees
Health Leadership
Ken Beckman – Central States Indemnity
Kathy Bressler – CHI Health
Jeremy Guenthner – RTG Medical
Health Inspiration
Susan Albright – Physicians Mutual
Samantha Barnhart – Nebraska Methodist College
Veronica Barrientos – RTG Medical
Tyler Ely – Fusion Medical Staffing
Ron Hertzberg – C&A Industries
Jenny Pelzek – WoodmenLife
Chris Reed – First National Bank
Kaylie Schneider – Dial Retirement Communities
Megan Skuya – Streck
Kit Zimmerman – Mutual of Omaha
Health Transformation
Mary Conant – Woodmen Life
Gina Davis – C&A Industries
Emily Gamm – Fusion Medical Staffing
Jim Gubbels – Omaha Public Power District
Steve Kerrigan – Omaha Public Power District
Mary Manero-Deaver – Union Pacific
Jordain Smith – RTG Medical
---
2018 Award Pictures
Please click here to view the pictures from the 2018 Light of Wellness Awards Dinner. Please note, the site may request that you enter your name and email address; upon entering that information, you will have access to view and/or purchase the photos.
---
2018 Award Videos
Located below are the 2017 Light of Wellness Awards videos.  You can access each award video by clicking on the award category below.  
---